International Operations:


Entry-Exit Requirements /
Immigration and Customs

Landing-Parking fees

Fuel Services

Ground Transportation
(Map)

Ground and Air Distances
(Map)



---



Entry-Exit Requirements - Immigration and Customs:

All international flights must go directly to the International ramp, exit right on Rwy 10, South of runway, terminal located alongside the tower.
Aeropuerto de Caracas has fully staffed facilities at the International Terminal where you can easily complete customs and immigration procedures. After clearing immigration and customs, aircraft and passengers may move to any other location in the airport or summit a flight plan for a national (domestic) flight. Verify with tower requirements for written flight plan.


Working hours and fees are established and charged by custom government authorities and are posted at the International Terminal. For off-hours use of immigration and customs you must contact the airport's Operations Department 24 hours in advance of scheduled arrival or departure. Please verify with Operations Dept. for updated off-hours fees.


General Declarations: Five copies are required for entry and five for exit, one copy stamped by immigration is to be kept by pilot. ICAO flight plan is required for departure.


Passport: Required, and it must be valid 6 months beyond intended stay.


Visa or tourist cards are required for passengers and crew that will be entering Venezuela, depending on the nationality of the passport. Please check for Visa requirements before coming to Venezuela. Tourist Cards can be obtained at immigration upon arrival, and are for non-extendable stay up to 90 days. It's possible to obtain from immigration officials a special authorization for a passenger whose nationality requires Visa, but for justifiable and verifiable reasons has to enter the country. This is a 72-hour special permit and is issued at the airport, only with the authorization of immigration officials of the main offices in Caracas.


Additional Requirements for Minors: In an effort to prevent international child abduction, many governments, including Venezuela's, have initiated procedures at entry/exit points. These often include requiring documentary evidence of the relationship and permission for the child's travel from the parent(s) or legal guardian not present. All authorizations from parents, legal guardianship, or proof of death of parents must be notarized. Venezuelan law requires having such documentation on hand. If only one of the parents is traveling with the minor, he must have permission from the other


Customs: Incoming Aircraft and luggage may be subject to inspection by customs officials and/or National Guard at the International Terminal. Luggage and/or merchandise should be taken to customs area for inspection. Pilot or a member of the crew should accompany and collaborate with the customs official upon the inspection of the aircraft and luggage. Each passenger may bring as part of their luggage new merchandise not intended for commercial purposes. If such merchandise is valued for less than US$1000 there are no customs tariffs applicable. If the declared value of merchandise is above US$1000 a tariff of 1% + 15%, for the amount over the established minimum, is applicable. Venezuelan customs authorities may enforce strict regulations concerning temporary importation or export from Venezuela of items such as plant and animal products, firearms, medications, archaeological or "cultural heritage" items, and pirated copies of copyrighted items. It is advisable to contact the Embassy of Venezuela or consulates for specific information regarding customs requirements.


Aircraft entry requirements: Privately owned aircraft entering Venezuela for pleasure or tourism purposes do not require prior permission. Corporate aircraft, if company owned and carrying company personnel, do not require prior permission. Non-scheduled commercial aircraft, corporate aircraft carrying cargo, chartered aircraft, or any type of aircraft entering Venezuelan airspace for commercial purposes must obtain prior permission from the government's Dirección de Transporte Aéreo. Please contact Aeropuerto de Caracas Operations Department for orientation.


Departing International Flights: All passengers and crew must have passport with entry stamp to Venezuela.


Exit Tax: Passenger and crew must pay to SENIAT Internal Revenues officials an Exit Tax of Bs.F. 29,4 per person. Passengers that enter the country with Tourist Card and stay for less than 30 days do not have to pay Exit Tax. Diplomatic passports are exempt from this Tax. Exit Tax shown is the current amount posted; tax amount may change in accordance with Tributary Unit value; please contact Operations Department for updated information.


Landing-Parking fees:

Parking: is provided at theTerminal Building ramp. Please contact airport's Operations Department for daily, weekly and monthly fees, based on airplane category and use. Hangar rental is possible but limited to availability (call or E-mail for information).


Landing Fees: Are based on the aircraft weight; please call or E-mail for updated rates.





Fuel Service:

Available at the International Ramp supplied by fuel truck. Call PDVSA before arrival or departure, or VHF to "Caracas Ground" at 121.7 MHz upon arrival.

Fuel service Tel: Administration [58] (239) 225-8869; Operations [58] (239) 224-0355; Fuel Island [58] (239) 514-5002, ext. 220; fax: [58] (239) 225-1343. In case of emergency call: [58] (414) 249-5528.


Ground Transportation:

Taxis available at Terminal Building. Car Rental services information in Directory of Fixed Base Operators.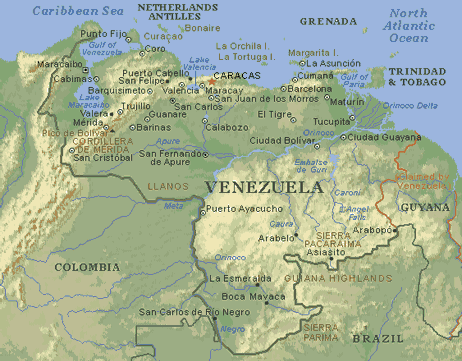 Ground and Air Distances:

The airport is located 45 minutes from the city of Caracas.
See the following table of air distances to Aeropuerto de Caracas from all mayor airports in Venezuela and the continent.
---
Airport
Iden.
Distance (NM)
Airport name
Venezuela
Maiquetía
SVMI
21.6
Simón Bolívar Intl.
Margarita
SVMG
172.2
Gen. Santiago Mariño Del Caribe Intl.
Maracaibo
SVMC
290.3
La Chinita Intl.
Barcelona
SVBC
126.1
Jose Antonio Anzoategui Intl.
Valencia
SVVA
66.6
Arturo Michelena Intl.
Maturín
SVMT
218
Maturín Intl.
Paraguana
SVJC
215.7
Josefa Camejo Intl.
Táchira
SVSA
364.1
San Antonio Del Táchira Intl.
Merida
SVMD
276.7
Alberto Carnevalli
Brazil
Rio De Janeiro
SBGL
2421.1
Rio De Janeiro Intl.
Belem
SBBE
1299.8
Val De Caes Intl.
Recife
SBRF
2202.1
Guararapes Intl.
Manaus
SBMN
896.1
Ponta pelada
Brasilia
SBBR
1929.4
Brasilia Intl.
Colombia
Bogota
SKBO
549.6
Eldorado Intle
Cali
SKCL
698.7
Alfonso Bonilla Aragón Intl.
Barranquilla
SKBQ
471.4
Ernesto Cortissoz
Cucuta
SKCC
366.1
Camilo Daza Intl.
Ecuador
Quito
SEQU
936.5
Mariscal Sucre Intl.
Latacunga
SELT
973.5
Cotopaxi Intl.
Guayaquil
SEGU
1080.3
Simon Bolivar Intl.
Peru
Pisco
SPSO
1546.7
Pisco Intl.
Lima
SPIM
1472.5
Jorge Chávez Intl.
Panama
Panama City
MPTO
746.9
Tocumen Intl.
MPBO
914.3
Bocas Del Toro Intl.
David
MPDA
931.6
Enrique Malek Intl.
Costa Rica
Golfito
MRGF
973.6
Golfito Intl.
Limon
MRLM
957.5
Limón Intl.
MROC
1027.5
Juan Santa María Intl.
Honduras
San Pedro Sula
MHLM
1272.2
La Mesa Intl.
Tegucigalpa
MHTG
1217.3
Toncontín Intl.
El Salvador
MSSS
1324.2
Llopango Intl.
MSLP
1319.2
El Salvador Intl
Belize
Belice City
MZBZ
Philip S W Goldson Intl.
Guatemala
Flores
MGFL
1400.5
Santa Elena Intl.
Guatemala City
MGGT
1412.2
La Aurora Intl.
Mexico
Mexico City
MMMX
1945.6
Benito Juares Intl.
Cancún
MMUN
1324.5
Cancún Intl.
Cozumel
MMCZ
1313.4
Cozumel Intl.
Curazao
Curazao
TNCC
170
Hoto Intl.
Trinidad
Trinidad
TTPP
323
Piarco Intl.
Tobago
Tobago
TTCP
355.9
Crow Point Intl.
Grenada
St George's
TGPY
313.2
Point Salines Intl.
Barbados
Airport
Iden.
Distance
Airport name
Barbados
TBPB
461.7
Brigedown Adams Intl.
Guadeloupe
TFFR
473.3
Le Raizet
Saint Martin
Philipsburg
TNCM
512.4
Princess Juliana Intl.
Puerto Rico
San Juan
TJSJ
491.3
Luís Muñoz Marín Intl.
Republica Dominicana
Barahona
MDBH
539.3
María Montez Intl.
Santiago City
MDST
595
Cibao Intl.
Santo Domingo
MDHE
523.9
Herrera Intl.
Cuba
Habana
MUHA
1174.6
José Martí Intl.
MUCU
780.7
Antonio Maceu Intl.
MUVR
1134.4
Varadero Intl.
Jamaica
MKJP
739.3
Norman Manley Intl.
MKJS
811.2
Sangster Intl.
Miami
Miami
MKIA
1204.7
Miami Intl.
Orlando
Orlando
KORL
1366.2
Executive
Dallas
Dallas
KDFW
2149.1
Dallas-Ft Worth Intl.
New Orleans
KMSY
1764.8
New Orlean Intl.

---

(Information provided by PRODUCCIONES AERONAUTICAS PH.D.
manualphd@hotmail.com - publicidadphd@yahoo.com)

---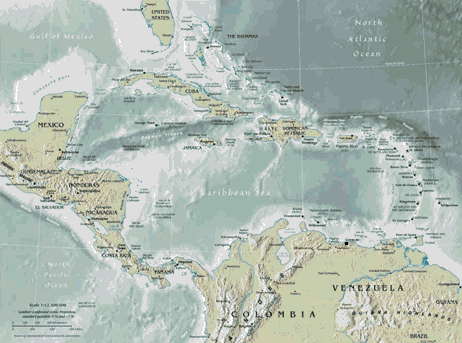 ---


top